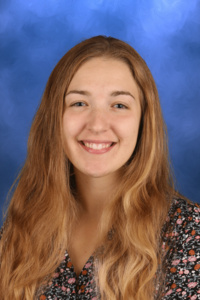 Dakota Larson
About Me
WHY VCA: I have dreamed of teaching at VCA since I was a student here! Our loving and welcoming community inspires me daily to continue developing my skills as an educator to serve our families. I am passionate about creating a safe classroom environment where students can use a growth mindset to gain a genuine love for learning.
EXPERIENCE/EDUCATION: I am blessed to begin my career as a 1st-grade teacher. During the 2020-21 school year and Fall 2021 semester, I was a teacher's aide in 1st-3rd grade classrooms at LGCS. In May 2022, I graduated from SJSU with my BA in Liberal Studies Integrated Teacher Preparation and preliminary Multiple Subject Credential. While in SJSU's credential program, I had the wonderful opportunity to join the PEERS (Teacher Residency) program, which partnered with Oak Grove School District, and I co-taught a 4th-grade class for the entire 2021-2022 school year.
HOBBIES: When I'm not teaching, I love being outdoors, enjoying nature, and finding ways to be active! On weekdays, I like to take my dog for a walk and go to the gym, and on the weekends, I love finding new hiking trails. I also enjoy listening to music, painting, and reading.
FAVORITE BIBLE VERSE: One of my favorite verses is Philippians 1:20 ""I eagerly expect and hope that I will in no way be ashamed, but will have sufficient courage so that now as always Christ will be exalted in my body, whether by life or by death."" It is such a powerful reminder that regardless of what others are doing around me, I want to always show and share God's love. My favorite book is Ecclesiastes; calling everything meaningless could seem disenchanting, but it's a mindset that keeps me focused on God. Verse 1:14 says ""I have seen all the things that are done under the sun; all of them are meaningless, a chasing after the wind,"" and I interpret this to mean that things the world sees as important or anything separated from God is temporary; it means that everything I do needs to ultimately serve God.
INTERESTING FACTS: Before attending SJSU for my undergraduate studies and credential program, I was a student at LGCS from 1st to 8th grade and graduated from Valley Christian High School! I am very grateful to have been blessed with a Christ-centered education that has also prepared me for the world.