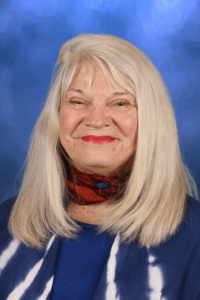 Linda Evans
About Me
WHY VCA: I love seeing students feel confident in their artistic creations. The look on their face is priceless to me. It makes me feel passionate about how important the arts are in education. Another area I feel joy about is when a student's heart truly comes to the Lord.
EXPERIENCE/EDUCATION: I bring to my job as the art teacher at VCA a variety of life experiences. I started my teaching career in preschool. I have my BA in art and studied pottery in Japan. I was a clothing designer, an interior designer for a firm, and a commissioned artist for businesses and private collections.
HOBBIES: I love anything to do with the ocean and beaches!! Find free stuff and make it into something fun.
FAVORITE BIBLE VERSE: My favorite scripture is Jeremiah 29:11. When I have had to weather rough patches in my life that scripture has carried me. It reminds me to have Hope in God, not circumstances, as He holds my future in His hands and not mine.
INTERESTING FACTS: I am married and have two grown children. My daughter attended LGCS and became a missionary for 11 years. I love witnessing for the gospel with Provision International at music festivals like Bonneroo in Tennessee. I had a ministry for single moms, some of which lived in their cars—started my art career on the beaches of Hawaii face painting. I was a stand-up comic! Some future goals would be to do art with brain-damaged individuals. Learn to play the ukulele!!